Sam Smith Falls Off Segway, Speaks Out After Kentucky Concert Drama
Sam Smith had a Segway accident that left him with a broken wrist, along with the injury the crooner was forced to cancel a show in Louisville, Kentucky. Via Instagram, Smith, who recently had vocal cord surgery, shared a very sad picture where he explained what happened to him.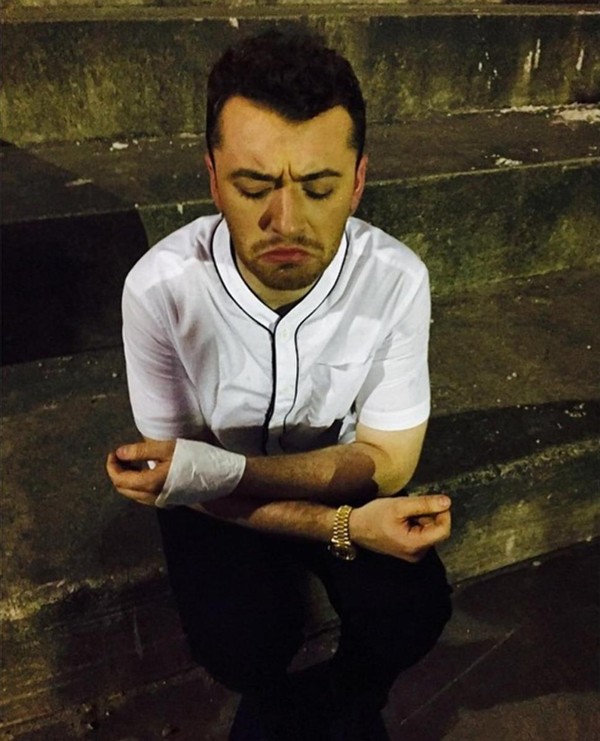 Sam Smith fell off a Segway, broke his wrist, and was forced to cancel a concert because of a storm all in the same day. Friday was not a very good day for Smith, who had to take to Instagram for two bad news. First of all, the "Stay With Me" singer fell off his Segway as he was staying at the 21c Museum Hotels in Kentucky with his team.
Mr. Smith shared a photo of himself lying in bed with his hand on a towel pretending to be sad, and he used the caption to reveal what happened:
to make matters worse. I fell off a fucking Segway thing today 😂 and I think I've sprained my hand. Got this shit on ICE right now. Kills.
That same day, Smith, who recently had to cancel several shows due to vocal cord surgery, was thrilled to return to the stage with a concert in Louisville – but it was cancelled because of a storm. Before belting out the first note, Smith told the audience:
"This is also a very special night for me because three months ago I had surgery on my throat and this is my first time back."
Barely 35 minutes into the show, Smith was asked by officials to wrap up because of a thunderstorm. The music star shared:
"samsmithworldLouisville!!!!!!The drama is real right now!! Literally In the middle of Lay Me Down there was an electrical storm and I had to be taken off stage and the whole festival had to evacuate. This KILLS me, because you guys were SO loud and incredible!!!!!!!! You were so loud the heavens opened haha. Gutted. But I do feel like Dorothy."
What do you think of Sam Smith's music?
Category: Entertainment